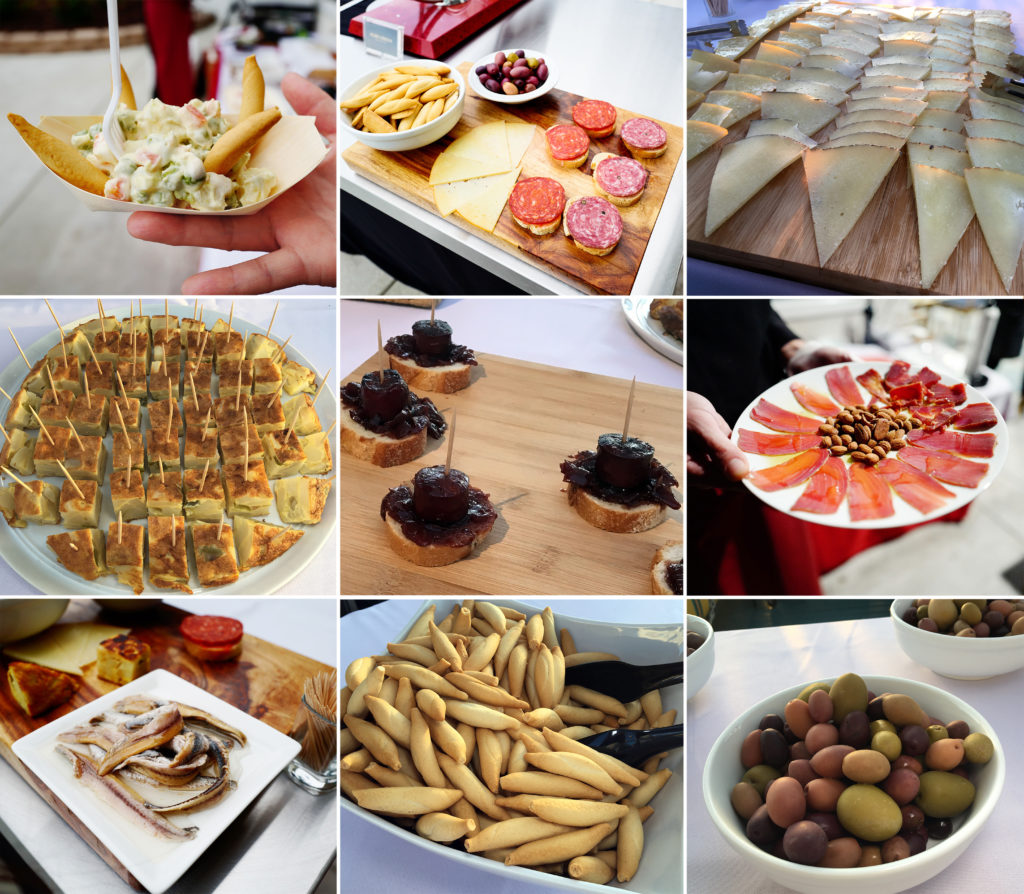 The tapas-bar classics
Tortilla Española. This classic is never missing in the tapas bar, the thick Spanish potato Omelet. 
Pinchos de Chorizo al Vino. Chorizo skewers slow cooked in red wine with caramelized onions.
Mojama. Premium dry-cured tuna loin served with olive oil.
Aceitunas. Olive medley (Cornicabra, Zorzaleña, Cuquillo, Verdial and Gordal varieties) from Spain. Also the famous olives stuffed with anchovies.
Gazpacho. A classic of Spanish Cuisine. It's a cold soup made of raw, blended vegetables.
Chorizo Vela. Spicy cured chorizo made with Pimenton de La Vera, giving an intense smoky flavor.
And of course!  Jamon Iberico hand-carved during the event. 100% Iberian and acorn fed. Cured for 3 years. 
Seafood Conserves:
Boquerones. White anchovies fillets from the Cantabrian Sea north of Galicia marinated in vinegar.
Sardinillas. Small sardines in olive oil.
Mussels. Big mussels from Galicia marinated in picked sauce.
Pulpo a la Gallega. Soft cooked octopus made with Pimenton and olive oil. Preserved in premium olive oil.
Anchovies in olive oil.
Platter of different cheese:
Manchego. The classic Spanish cheese, with a soft but decisive taste, from La Mancha, cured for 3 months.
Murcia al Vino. Creamy goodness with a touch of salt and a hint of fruity wine flavor. Goat.
Tetilla. In Spanish its name translates literally to "little breast", this soft cheese from Galicia will melt in your mouth.
Idiazabal (Vasco) From the Basque Country, this cheese has a sharp, strong taste, cured for 2 months.
Dessert:
Tortas de Aceite. Sweet crispy bread made with olive oil and anise.
And more to choose…